Vice President and Chief Strategy and Impact Officer
Jessica Felix Romero has over 14 years' experience in social justice advocacy, organizing, and communications. She has served as a communications expert on a variety of issues including labor rights, immigration, health, environment, peacebuilding, and agriculture.
During her tenure as the Sojourners communications director, she helped set strategy around faith-oriented narrative change. Previously, she was with Job With Justice and Farmworker Justice bringing together diverse voices to win improvements in working people's lives, shaping the public discourse about working people, and supporting mobilization efforts surrounding workers' rights, jobs, and the economy.
With a doctorate in conflict analysis and resolution, she integrates holistic system analysis and transformative design to help nonprofits advance social change.
Jessica loves all things about food and spirituality and her pioneering doctoral research in El Salvador documents the transformational possibilities of conflict-resolution oriented food systems that feed people and nurture peace. She is a student of somatic writing and embodied leadership, and is currently exploring the intersections of spirituality, ancestral wisdom, and Christianity.
Speaking Topics
Strategy and social movements
Narrative change/messaging/communications
Conflict resolution
Environmental peacebuilding
Food justice
Embodied leadership
Posts By This Author
The Reaper, the Sower, and the Union
10-21-2021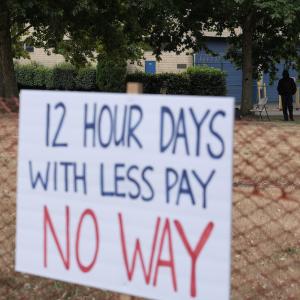 The latest headlines are filled with news of worker shortages, delayed supply chains, and labor strikes. Cornell University's School of Industrial and Labor Relations strike tracker reports more than 181 strikes so far this year, with 38 of them taking place in the first two weeks of October, spurring the AFL-CIO to name this month "Striketober." These strikes span all kinds of industries, from hospital workers to whisky makers.