Rabbi Burton L. Visotzky serves as Appleman Professor of Midrash and Interreligious Studies at the Jewish Theological Seminary. There, he is Louis Stein director of the Finkelstein Institute for Religious and Social Studies, and directs the Milstein Center for Interreligious Dialogue. As a conservative rabbi, he has been a leader within the Shoulder to Shoulder Campaign since its founding in 2010.
Posts By This Author
The Faith Imperative of the No Ban Act
, 02-20-2020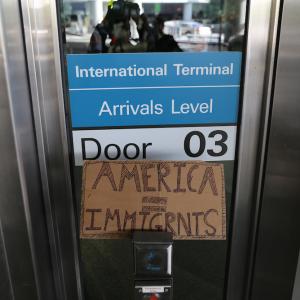 Ten years ago, Jews and Christians joined together to publicly declare their solidarity with American Muslims by launching the Shoulder to Shoulder campaign, a national interfaith campaign to end anti-Muslim discrimination and violence. A decade later, we are still standing strong together as the rights and dignity of our Muslim brothers and sisters continue to be threatened. In response to the administration's expanded travel ban — which goes into effect Feb. 21 — the National Origin-Based Antidiscrimination for Nonimmigrants Act was brought to the House floor for a vote last week. We urge all people of faith and conscience to join us in calling for Congress to support the "No Ban Act."