The Rev. Dr. Benjamin F. Chavis, Jr., President & Chief Executive Officer of the National Newspaper Publishers Association (NNPA), was the former Executive Director of the UCC's Commission for Racial Justice when the UCC released the groundbreaking report 'Toxic Wastes and Race' in 1987.
Posts By This Author
Do You Live Near the Toxic 100?
, 02-26-2020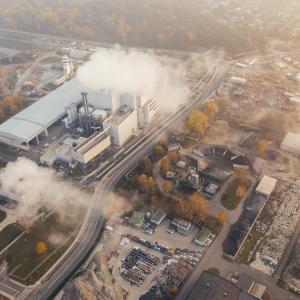 A report today released by the United Church of Christ identifies the nation's "Toxic 100" super polluters, naming the factories and facilities responsible for nearly half the toxic air emissions in hundreds of neighborhoods across 28 states. Alongside the report, Breath to the People: Sacred Air and Toxic Pollution, the UCC provides an interactive map, because they believe parents have the right know where these polluters operate. Like toxic water, toxic air is irreversibly harming children across our nation.
To Ensure the Future of the Planet?
06-01-1992
Success of the Earth Summit threatened by U.S. foot-dragging
Maurice Strong, secretary-general of the upcoming Earth Summit in Rio de Janeiro, described the primary purpose of the summit as "to lay the foundation for a global partnership between developing and more industrialized countries, based on mutual agreements and common interests, to ensure the future of the planet."
Some feel the Bush administration, in contrast, views environmental issues as cannon fodder in the partisan war between the Republicans and Democrats. Bush has threatened to skip the June 1-12 gathering—known formally as the U.N. Conference on Environment and Development (UNCED)—unless it produces a treaty the administration feels "serves U.S. interests."
June 5, 1992, will mark the international observance of World Environment Day and is the 20th anniversary of the U.N. Conference on the Human Environment, convened in Sweden in 1972. Since then, however, the health of the planet's environment has been dangerously injured with substantive increases in ozone depletion, global warming, and production of toxic substances.
Leaders from environmental organizations around the world are viewing the Earth Summit as a historic moment when governmental leaders can be challenged to take more effective measures to bring development and industrialization questions in line with the growing worldwide demand that the planet's environment be protected.