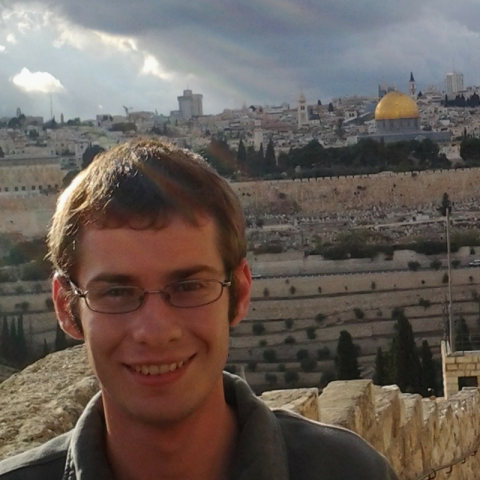 Andrew Wickersham is an Ambassador Warren Clark Fellow of Churches for Middle East Peace.
Posts By This Author
A Capital Offense
, 05-30-2018
Why Christians in the Middle East aren't celebrating the new U.S. Embassy in Jerusalem
EVANGELICALS IN THE United States and Christians in the Middle East had vastly differing responses to President Trump's actions on Jerusalem that sparked the explosion of violence this spring on Gaza's border with Israel.
In the United States, 53 percent of evangelicals supported the decision to recognize Jerusalem as the capital of Israel, according to a Brookings Institute poll, and it was greeted with unadulterated joy by prominent leaders of the Religious Right. A wide range of church leaders in the Middle East were decidedly less positive about Trump's actions, pointing to the potential threat not only to peace in the region but also to the very presence of Christians in the Holy Land.
How could an action so many U.S. Christians supported elicit such opposition from Christians across the denominational landscape of the Middle East?
There are, of course, deep divides within Christianity about the place of the Holy Land and role of the Jewish people in eschatology that in part explain the divergent reactions, but there are pragmatic reasons as well for why Middle Eastern Christians would oppose the Trump administration's actions on Jerusalem. The U.S. government's recognition of Jerusalem as the capital of Israel—absent a peace agreement between Israelis and Palestinians—will certainly threaten the Christian presence in the city and increase the risk of violence, according to church leaders there, owing to the unilateral nature of the decision.
Supporters of U.S. recognition of Jerusalem might ask how this seemingly symbolic act could harm Christians (or anyone, for that matter). The Trump administration, after all, denies that the recognition of Jerusalem will have any detrimental impact on the peace process. They argue that Jerusalem has served as the physical location of Israel's government since 1950; it makes no sense, they say, to deny the reality that the city is "in fact" Israel's capital.