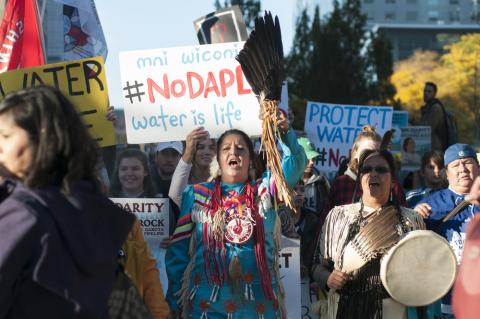 The U.S. Army Corps of Engineers has granted the final easement needed to construct the Dakota Access Pipeline, according to a Feb. 7 court filing. David Archambault II, chairman of the Standing Rock Sioux Tribe, vowed to continue fighting the construction.
"Our fight is no longer at the North Dakota site itself. Our fight is with Congress and the Trump administration. Meet us in Washington on March 10," Archambault said in a statement, referring to a planned Rise With Standing Rock Native Nations March on Washington.
The USACE filing cites President Donald Trump's Jan. 24 "Presidential Memorandum Regarding Construction of the Dakota Access Pipeline," which directed the USACE to "review and approve in an expedited manner, to the extent permitted by law and as warranted, and with such conditions as are necessary or appropriate, requests for approvals to construct and operate the DAPL, including easements or rights-of-way ..."
The Indigenous Coalition at Standing Rock issued a worldwide call to action for Feb. 8 to "disrupt business as usual and unleash a global intersectional resistance to fossil fuels and fascism." A database of actions can be found here.
Earlier this week, Seattle became the first city to break ties with Wells Fargo in protest of its investment in Energy Transfer Partners, the builders of the Dakota Access Pipeline.
According to NPR, construction could technically begin on the pipeline as early as this week.
Take Action
Tell President Trump: Dakota Access Stands in Opposition to Our Values
Act Now