This Sunday, churches in parts of Virginia will be permitted to open their doors for services as part of phase one of Gov. Ralph Northam's reopening plan.
It's a moment many pastors in the state have been eagerly anticipating. Earlier in the month, dozens of church leaders sent a letter to Northam requesting he make exceptions for religious services, allowing once a week gatherings of more than ten people to return.
"Corporate worship is commanded by Scripture and has been a foundational element of Christian life for nearly 2,000 years," the letter stated. "Alternatives such as live-streamed services and 'drive-through' worship are not adequate substitutes to the Body of Christ."
Churches in the southern and western parts of the state seem to have gotten what they asked for in Northam's reopening plan. Congregations will now be able to gather, as long as they abide by established guidelines, including: limiting occupancy to 50 percent of the building's capacity, seating attendees at least six feet apart, and posting signage indicating anyone with a fever, or known exposure to the virus in the past 14 days, will not be granted admission. Passing items, such as offering plates, is also prohibited. Masks and face coverings are encouraged.
But even though churches are allowed to open under the guidelines, not all pastors will choose to reopen their buildings this Sunday for services citing health concerns and uncertainty of the virus' trajectory.
In Lexington, a college town of fewer than 7,000 people nestled in Virginia's Shenandoah Valley, pastors reacted differently to Northam's plan. Some have chosen to meet under augmented conditions, while others have decided to keep their doors shut. Both decisions will shape the future of the area's more than 20 churches.
Grace Presbyterian Church (PCA) will offer one 11 a.m. service this Sunday. Instead of greeters handing bulletins at the door, they'll put them on seats to mark where people should sit to ensure six feet of distance between themself and their neighbor, said Senior Pastor Paul Carter.
While the church's membership exceeds their half-capacity limit of 155 people, Carter doesn't anticipate that more than half of the congregation will show on Sunday morning. Children's worship won't be offered. Neither will Sunday school. Some of their older members won't come, he said.
The service itself will look different too. The passing of the peace, during which people typically hug or shake hands in greeting, is too risky, Carter said. Coffee hour likewise is canceled. Offering plates will be at stations on the sides of the room to avoid physical contact. Some of the musicians will not be in attendance.
But even though service will look different, Carter said he is looking forward to having his members back in the building.
"Gathering for worship is an important part of our spiritual life and the life of the church," he said. "To ignore [gathering] for who knows how many more months would be a great mistake in the life of the church."
Carter stressed that if things were to take a turn, and cases of the virus were to spike in the city, his congregation would revisit the decision. As of this reporting, the city of Lexington had five documented cases of the virus.
"We're concerned about serving our people and keeping people as healthy as possible," he said. But he added that, "people are able to make their own choices."
St. Paul's Anglican Church will also open this Sunday. But The Rev. Dr. Eric M. Parker doesn't expect that members of the small parish of about 30 people, mostly retirees, will rush back.
Still, Parker said he's excited to welcome people back to the parish and to feel that things are "beginning to get back to normal."
He said the church created a plan for opening when the governor first began conversations about reopening the state. St. Paul's will follow guidelines, he said, posting appropriate signage and seating members six feet apart. Communion will be distributed this Sunday, but only the bread since wine is typically served from a common cup.
As the one distributing the element, Parker will take extra provisions. One person will come forward at a time to receive the bread. Those waiting will be properly distanced.
"There would be no contact between me and the person," Parker said.
Pastor McKinley Williams of First Baptist Church will also be changing the way he physically interacts with members of his congregation when the church opens this Sunday.
In addition to hand sanitizer offered at the door, Williams will give the benediction from the pulpit instead of from the back of the church where he would typically stand and greet members as they exit the building.
It will be "odd and somewhat awkward," he said. But "the wider picture is that I want everybody to remain healthy and I want everybody's lives to last as long as possible."
It is for that reason that Rev. Adam C. Schultz of Good Shepherd Evangelical Lutheran Church says his church will not be opening this Sunday.
Members of his congregation have pre-existing conditions, he said. Some are immunocompromised from chemotherapy and other autoimmune disorders.
"It's not only what is permissible, but what is safe for our people," he said.
He read a story of a congregation in Calgary, Alberta, that followed all public health measures when they gathered in March and still had more than half of their congregation fall ill from the virus. Two members later died.
"If something like that were to happen in our congregation, it would be tragic," he said.
Good Shepherd will continue to offer online services through Zoom until at least mid-June. When they do open, Schultz knows things will be different.
"Everything will have to change," he said. "Our worship is extremely social."
Good Shepherd is hosted in a small building, meaning that only two or three of the six rows of pews could be used to allow for six feet of distance. It may mean that people would need to sign up for church to ensure that the church is adhering to established guidelines, he said.
Schultz, who graduated from seminary last May, said the moment has been challenging as the leader of a congregation. At times, he says he feels ill-equipped.
"Somehow I missed the 'Ministry During a Pandemic' class," he said.
But he's grateful for the support he's received from colleagues and fellow pastors.
"I'm assured that it's not just my newness that makes me feel ill-equipped because in many ways they feel ill-equipped even if they've been doing ministry for 30 plus years," he said. "We're in a new phase of the life of the church."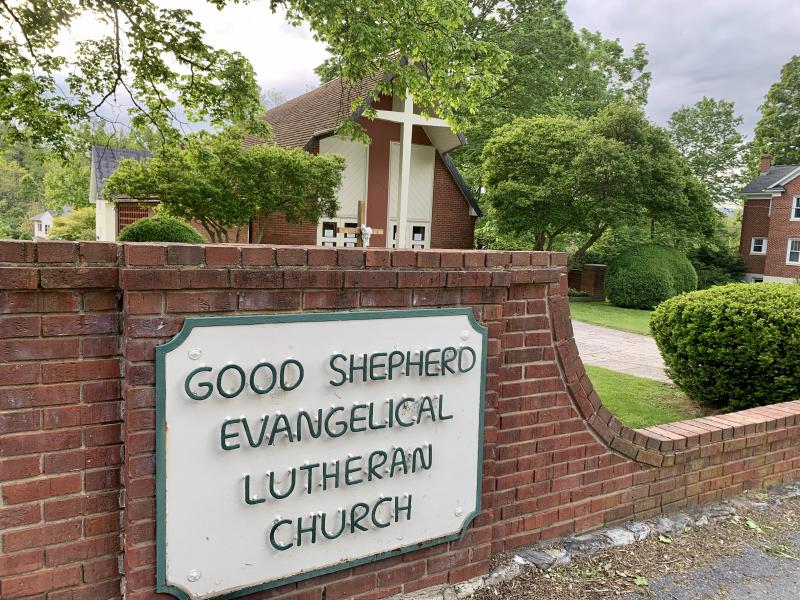 Trinity United Methodist Church will also be keeping their doors shut this Sunday as they await guidelines from their Bishop.
Rev. Joe Cailles said it is likely Trinity will move to a hybrid model in the coming weeks, live-streaming a worship service from their sanctuary where some members are present and practicing social distancing while others participate online from home. But it's going to take them a couple of weeks, at least, to move to this new way of worshiping, he said.
"We are all eager to be together for worship," he said. "I want to ensure that what we do is accessible to those who can't be present in the sanctuary, as well as maintaining the health and well-being of those who are present."
One thing that's been on his mind is singing. He said some of his congregants have read reports that say singing expels droplets into the air, potentially spreading the virus from person to person. And while it's hard to imagine a service without singing, he said "it may not be a wise thing" for his congregation to do, at least for the time being.
Pastor Bill Klein of Lexington Presbyterian Church (USA), which will also not be opening this Sunday, said he thinks the nature of the church itself is going to change after the pandemic, and not just the services. Some people will not come back, he said, not just to Lexington Presbyterian, but to the church in general.
While he said it's been tough leading services with an iPhone over Zoom, it's also been wonderful in ways he didn't expect.
"Zoom has made it possible for folks who have not been able to participate in worship to participate," he said.
He said congregants have been involved in ways they hadn't before, coming together for virtual meetings, making masks, and reaching out to support the Rockbridge Area Relief Association, which has been providing food and emergency aid to families in the area.
Recently, Klein performed a baptism over Zoom for the baby of a church member currently living in Australia. The whole congregation was there, spilling onto four pages of Zoom screens.
"It was pretty darn cool," he said. "It was in fact one of the neatest things I've ever been a part of."
Got something to say about what you're reading? We value your feedback!