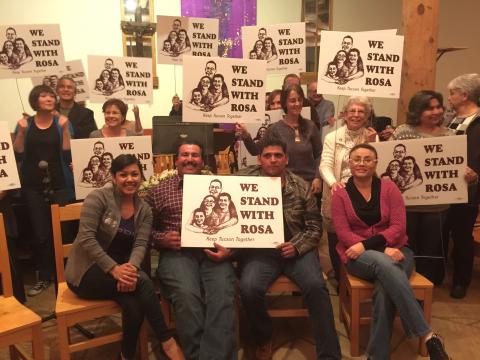 Rosa Robles spent 461 days inside a Tucson, Ariz., church after receiving a deportation order that would have separated her from her husband and children.
She has finally received an assurance from the federal government that she will not be deported. So on Nov. 11, she left the church for the first time in over one year, reports The Guardian.
According to The Guardian:
Robles was held for 53 days in detention before being released on bond and placed in removal proceedings. After four years of fruitless appeals she was told she would be deported on 8 August 2014. She entered the Southside Presbyterian Church on 7 August, leaving her husband, Gerardo, 41, a landscaper, to care for their sons.

The same church sparked a sanctuary movement in the 1980s by taking in migrants fleeing wars and persecution in central America.

Robles occupied a small, windowless room. She helped church staff to cook and clean, walked around the yard for exercise, listened to music, did jigsaw puzzles with her family during visits, and lobbied, with the help of supporters, for deportation relief.
Send Us a Note
Got something to say about what you're reading? We value your feedback!