On Friday, President Donald Trump prepared to be the first U.S. president to attend the March for Life, the annual gathering of anti-abortion activists and faith groups in Washington, D.C., just after Vice President Mike Pence met with Pope Francis during an unusually long audience at the Vatican.
The visits come on the heels of Trump's launch of Evangelicals for Trump and numerous other moves to shore up conservative religious support ahead of the 2020 presidential election. According to Politico, the Trump campaign is preparing to launch a "Catholics for Trump" coalition and he is expected to deliver remarks at the National Catholic Prayer Breakfast in March.
At the Vatican, Pence quipped that the pope had made him "a hero," appearing to refer to the fact that his family had stayed in the Roman Catholic Church and that his conversion to evangelical Protestantism in college had put some strain on family relations. Pence's talks with Francis in the papal library lasted about an hour, twice as long as the meeting between the pope and President Donald Trump in the same frescoed room in May, 2017.
"I want to extend the warmest greetings on behalf of President Donald Trump, who so enjoyed his visit here," Pence told Francis before reporters and photographers were ushered out of the room.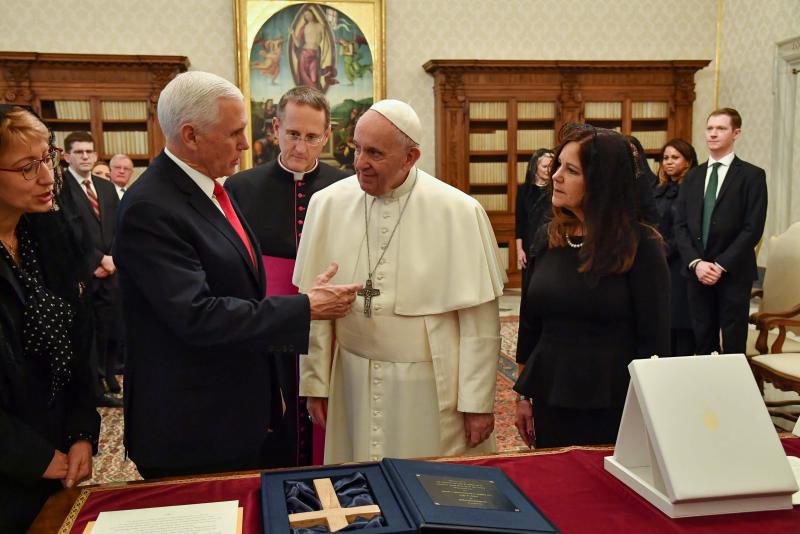 Francis gave Pence some of his recent writings, including his World Day of Peace message for this year, which reads in part:
The terrible trials of internal and international conflicts, often aggravated by ruthless acts of violence, have an enduring effect on the body and soul of humanity. Every war is a form of fratricide that destroys the human family's innate vocation to brotherhood.

War, as we know, often begins with the inability to accept the diversity of others, which then fosters attitudes of aggrandizement and domination born of selfishness and pride, hatred and the desire to caricature, exclude and even destroy the other. War is fueled by a perversion of relationships, by hegemonic ambitions, by abuses of power, by fear of others and by seeing diversity as an obstacle. And these, in turn, are aggravated by the experience of war.
While Pence was in Italy, President Donald Trump was preparing to become the first U.S. president to attend the annual March for Life, according to organizers, underscoring his outspoken support for the anti-abortion movement as it celebrates key legislative gains.
"See you on Friday ... Big Crowd!" Trump posted on Twitter on Tuesday in response to a tweet from March for Life promoting the event
Even though he had declared support for abortion rights years earlier, Trump vowed during his 2016 campaign to appoint Supreme Court justices he believed would overturn Roe. Since his election, he has appointed two justices to the court, Neil Gorsuch and Brett Kavanaugh, cementing the court's 5-4 conservative majority.
"You've heard a lot of religious leaders and a lot of Republicans say that this president is the biggest champion for life ... the biggest advocate for the pro-life movement in history," White House spokesman Hogan Gidley told reporters on Thursday.
March For Life President Jeanne Mancini said the organization "was deeply honored" to welcome Trump in person, after he delivered televised remarks in support of the anti-abortion movement at the 2019 march. Vice President Mike Pence attended the event in person last year.
Past U.S. presidents have opted to stay from the march. Republicans Ronald Reagan and George W. Bush both delivered remarks remotely.
Reuters reporting contributed to this story.
Got something to say about what you're reading? We value your feedback!