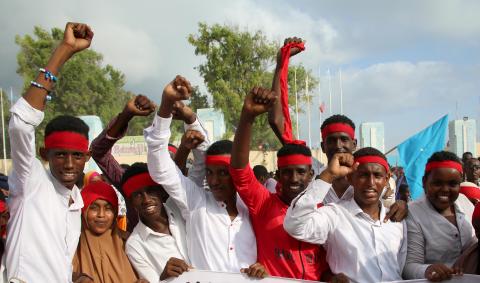 In the aftermath of a Oct. 14 truck bombing that killed over 300 people in Mogadishu, Somalia, thousands of people took to the capital's streets in response to mayor Thabit Abdi's call to unity, according to The Guardian.
The massive crowd marched through the streets of Mogadishu, donning red headbands amid lines of police officers, who opened fire to block protesters from nearing the site of the denonation.
The Guardian reports:
The attack in the heart of Mogadishu on Saturday has been blamed on al-Shabaab, the local violent Islamist group, and was one of the most lethal terrorist operations anywhere in the world in recent years.

The Somali capital has suffered scores of bombings over recent years but not on this scale.

"We are demonstrating against the terrorists that massacred our people. We entered the road by force," said Halima Abdullahi, who lost six of her relatives in the attacks.
The bombing is a grave setback the Somalian government, as President Mohamed Abdullahi Mohamed has vowed to disarm the al-Qaida-linked group, al-Shabaab, after being elected this February.
Read more here.