For queer people who have grown up evangelical, choosing a queer-affirming church is not an easy task. It can mean more than choosing a church with an inclusive stance on LGBTQ issues — it often means choosing a different type of church altogether, one that may read the Bible more radically, worship more liturgically, and congregate differently. Think: fewer small groups, more soup kitchens.
And though many LGBTQ evangelicals do make the jump to other churches, some remain — because they feel, ultimately, most at home in evangelicalism.
When a generation starts to painfully outgrow the spiritual family in which it grew up, who chooses to stay? Who leaves? Why?
Those Who Leave
Kristen Scharold (31) and her wife, Jessica Yan (28), tried very hard not to leave their New York City church, Resurrection Williamsburg. I first reached out to Scharold after reading her "Modern Love" story in The New York Times. Although the couple now attends a queer-affirming church, it was a long journey before they got there.
When Scharold and Yan first realized they had feelings for one another, they confessed to their pastor, Vito Aiuto, in tears. They hoped their church would create space for them to explore these questions while serving as members — Resurrection Williamsburg, though conservative, had been profiled as a "hipster church" that attracted tattoo-wearing, artistic millennials. But when they tried to dialogue with Aiuto, Scharold recalls the pastor accusing her of being "disqualified" from interpreting Scripture because she "had an agenda." Of all his reactions, Scharold said over email, this comment stung the most.
"I so desperately wanted to know the truth and was honestly willing to follow that anywhere," Scharold wrote. "To be dismissed as unable to see the truth because I had an agenda discredits all the study, prayer and seeking I was doing."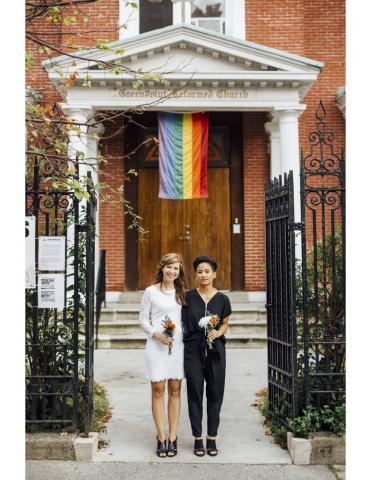 Eventually, Scharold and Yan got engaged. They wanted to remain at Resurrection, even though their membership was revoked, they weren't allowed to serve, and they were asked to refrain from taking communion. "We said, 'You can take away membership, but we are still going to come to church because this is our family and community,'" Scharold, who had served in the church for five years, said over the phone.
Over time, it became too painful to continue, and Scharold and Yan felt they had no choice but to leave. (Aiuto declined to comment on his conversations with the couple, saying that he wishes and prays for them all joy and peace.)
The couple is now happily at Greenpoint Reformed Church in Brooklyn. They love its commitment to social justice and its diverse congregation. When I asked if they missed anything from the evangelical world, Scharold said, "Honestly I don't miss any of it. What I do miss is my community at Resurrection."
Scharold, like many LGBTQ Christians who leave evangelicalism, looks back on her past with a kind of wistful bitterness. One of the exceptions is Omar Abreu (21), who grew up in New York City and attended Hillsong Church throughout high school.
Abreu spent his entire Sundays at Hillsong — he arrived at 6 a.m. to set up chairs, manage graphics during services, and left at 11 p.m. to return to his home in the Bronx. After high school, he felt called to enroll in Hillsong College in Sydney, Australia, as he hoped to enter full-time ministry and help lead Hillsong Church's national TV team. Once there, however, he was forced to confront the fact of his sexuality, which he had been trying to hide from others. He fell into the deepest depression of his life. After much anguished prayer, intervention sessions for the "spirit" that was "binding" him, and Christian counseling, he decided to move back to New York City at the end of 2015.
He rejoined Hillsong NYC, but something felt off during worship. "I would sing the songs and think, 'The person who wrote this song thinks I shouldn't be singing it. The people around me singing this song think that I shouldn't be singing this,'" he said. (Hillsong's statement on homosexuality can be found here.)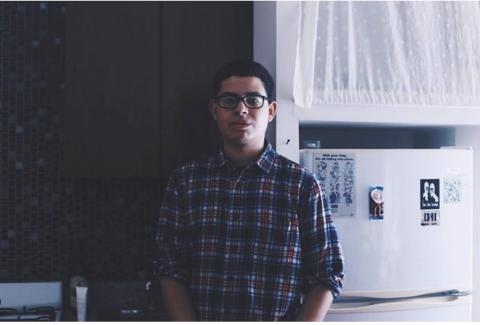 Abreu started attending St. Lydia's, an LGBT-affirming activist church in Brooklyn, on Sunday evenings. The liturgical form of worship was strange to him at first, coming from Hillsong's charismatic style — he wondered whether God's presence could be in a church where people were not crying during worship. But he was relieved to be in a space that was affirming that also actively talked about race and social justice, something he felt was missing at Hillsong, so he kept coming back.
"In Hillsong, I used to really feel God in worship," he said. "Now I feel God more when I'm connecting with people — when our full selves are present. That's how I felt with God — he was the only person who viewed me as my full self."
After our phone interview, I realized I had one lingering question.
"Do you still listen to [the Christian band] Hillsong?" I texted him.
"I've actually been listening to more gospel…[Hillsong's songs] are associated with an ideology that is not for me," he said.
"Got it. You are remarkably un-bitter given all your experiences at Hillsong, I must say," I wrote.
He replied, "Hahaha, thank you! It's all jesus."
Those Who Stay
Brian Losoya (30) stays in his non-affirming church, Apostles in Union Square, because he loves it and because he believes the only way his church will change its stance on sexuality is if its members actually know gay and affirming Christians. When his pastor lists all the people whom the church is fighting for — women, the poor, people of color — Losoya said he nods along in approval, but winces at who is left off the list. Because he plans to be in a relationship with a man, he has decided not to pursue membership.
I asked a pastor from Apostles about their stance on membership and LGBTQ people in their church. I received the following response:
"We hold to the historical orthodox position on God's design for sex and sexuality. Many in our church would identify as same sex attracted or gay. Discussions regarding the topics of sex and sexuality happen in our community often. We hope to be a safe place for any individual to engage with us in this conversation."
Losoya is a graduate of The Reformation Project leadership cohort, which exists to change evangelical communities' minds on LGBTQ issues. "I really value my [church] friends," Losoya said. "But you know, for the most part, they all want you to be a different person, which is not great. It's been a struggle."
Losoya, who grew up in Texas, was initially drawn to Apostles for its conservative style of theology. But over time he has shifted his beliefs on LGBTQ questions and adopted an epistemological approach that is centered on "grace" rather than "certainty," he said.
"It seems to me that conservative theology cares less about the impact that it has on people and more about the pride and the security of being right," he said. "When you have a belief system in which so much depends on being right, when you're wrong about something, you feel you could be wrong about everything."
Losoya's lens of "grace" also sheds light on why he remains at Apostles. If we are all flawed readers of the Bible, he said, then while he believes his conclusions are true, he also allows that perhaps he is wrong.
If "grace" is Losoya's operative word, then "diversity" might be Hope's word of choice. Hope (a pseudonym) attends Central Presbyterian, a member of the Evangelical Presbyterian Church. Like Brian, because she dates women and men, she cannot be a member. But she can serve and be part of the community. Hope says her pastor, Jason Harris, holds to orthodox doctrine but takes a nuanced pastoral approach. (Harris did not respond for comment).
Unlike Losoya, Hope doesn't want to change her church's beliefs. She sees her affirming theology as a "freedom that God has granted me" and is open to sharing it, but not as something to impose on others.
"There are things to be learned on both sides," she said.
Hope will draw some lines, however. She says she left Redeemer Presbyterian after attending it for nearly ten years due to its views on female leadership. But she still attends her weekly Redeemer community group, as being in relationship with people with different theological views is important to her.
When Hope was dating a woman whom she wanted to bring to her community group, she emailed the group to see if they were comfortable with it.
"I want to be really respectful of where they are and what they are comfortable with," she said. "You are always inviting people into freedom. You teach people how to treat you. The more we can be rooted in Christ, the less we need a stamp of approval."
There are many things that Hope loves about her church, especially the respectful coexistence of various views while being rooted in orthodox teaching.
"In my experience with churches that are affirming, a lot of times it's this 'feel good' pop psychology. Their theology is a little watered-down and is so open that there is no need for the cross, sin, or redemption," she said.
What about if she marries a woman and has a family — would she remain?
"That's a question I may ask my pastor. 'If I were to get married and have kids, could we attend this church?' If my family could, then I would love to stay at my church," she said. Otherwise, she would leave, she said, rather than urge her pastor or anyone to go against their conscience.
Although both Hope and Brian Losoya attend non-affirming churches, they are also part of Grafted, a nondenominational community of LGBTQ Christians in New York City. They attend Grafted's social outings and bible studies in order to be with other queer Christians — it's a space that their churches don't provide.
The familiar "coming out" story for evangelicals — of discovering one's queerness as a Christian and then dumping one's conservative church — is not meaningfully true for the four individuals with whom I spoke. They all, at least for a time, occupied a liminal space within their churches — one in which they straddled multiple worlds, lives, and selves. Leaving the evangelical church, for those who grew up in its bosom, is not an easy decision even for those who have been hurt by it. It can feel tantamount to leaving one's family.
Got something to say about what you're reading? We value your feedback!