For the first time since 1986, the United States' Mens National Team will not be represented at a World Cup. But the United States did compete in a World Cup in Russia this year — the Street Child World Cup.
Organized by Street Child United, the Street Child World Cup was founded after street children were rounded up from the streets ahead of the 2010 FIFA World Cup in South Africa, according to Joe Hewitt, Head of Americas for Street Child United. This will be the third Cup, after tournaments in South Africa and Brazil in 2010 and 2014.
This is a common practice surrounding major sporting events around the world. According to UN estimates, there are nearly 150 million street children around the world.
Hewitt told Sojourners that Street Child United was interested in answering the question, "How do we bring these children into the football party, rather than exclude them from it?"
The Street Child World Cup aims to remind street children and the world that "every child can access their rights, no matter their background."
The teams are organized by local in-country groups affiliated with Street Child United. Organizers for the U.S. team worked with D.C. schools to identify young players who have experienced or are at risk of homelessness.
"Professional soccer players are now on half-a-million dollar contracts per week. I think soccer has left people feeling alienated, and we're taking it right back to the grassroots," Hewitt said.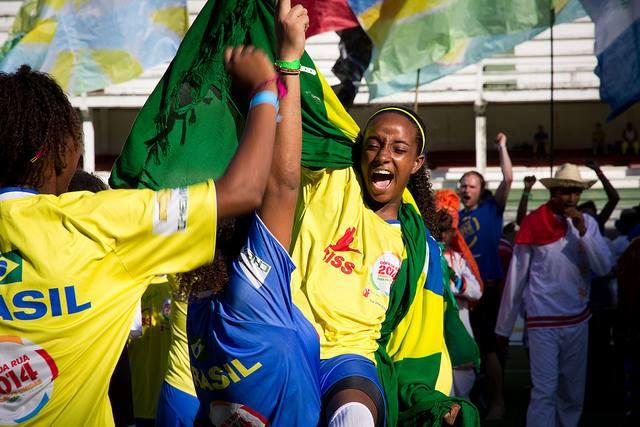 On May 11, more than 200 children from 24 countries attended the opening ceremonies in Sapsan Arena in Moscow, for their own international soccer tournament, along with a conference and festival of arts. On the pitch, boys and girls — through sport and dialogue — look to change negative perceptions and treatment of street children everywhere.
"You have children who, in other walks of society, are judged as a threat … and suddenly with that soccer ball at their feet they are children, and they're playing, and they are valuable. And that turn-around, just because they are on the soccer field, is very inspiring," Hewitt said.
"The Street Child World Cup gives these children a platform. Listening to them helps with their personal development and path back into society."
But the children will also make their voices heard off the pitch, calling for the rights of millions of children living on the streets worldwide. Each country works with its team to identify an issue of concern to homeless children in their country. Teams will engage in public speaking and advocacy trainings and will prepare a presentation on the issues of importance to at-risk and homeless children in their own countries.
"This goes back to the power of sport — and, in particular, soccer. I think about how soccer can not only engage young people who are at risk but can provide a methodology for life for them — a metaphor for life. A soccer team can be a reflection of society, and that is something we work on with the children," Hewitt said.
The Street Child World Cup will produce a champion. But it will also produce a "Moscow Manifesto," written by the children, which will be presented to the governments of their countries and to the United Nations, to lift up concerns and hopes on behalf of at-risk children across the globe.
In Moscow, four teams are representing the Americas: Brazil, Canada, Mexico, and the United States. The Brazilian team is highlighting violence against girls, gender inequality, and the power of sports in developing young women's confidence and leadership skills. Mexico will discuss the vulnerability and invisibility of girls on the street. And the United States will raise awareness around the more than 4 million at-risk and homeless youth in our country.
Follow the tournament here.
Got something to say about what you're reading? We value your feedback!