Rev. Megan Rohrer became the first openly transgender bishop of any mainline denomination in the country during an installation ceremony Saturday in San Francisco.
Rohrer, a Sojourners contributor, is the fifth bishop in the history of the Sierra Pacific Synod in the Evangelical Lutheran Church of America — the largest Lutheran denomination in the United States. They were elected in May to serve a 6-year term, which involves caring for almost 200 congregations in Northern California and Nevada.
Nearly all 65 ELCA bishops, along with several dozen pastors from the Sierra Pacific Synod, joined the Sept. 11 celebration, according to ELCA communications coordinator Catherine Slabaugh. The service took place at Grace Cathedral, an iconic Episcopal church in the heart of San Francisco. Wearing the red vestments reserved for Pentecost Sunday and special occasions, they participated in a Eucharist service that concluded with Rohrer's official presentation as bishop.
The ELCA first voted to allow openly LGBTQ clergy in 2009, with the first LGBTQ bishop, Rev. R. Guy Erwin, installed in 2013. One day after Rohrer's installation, the ELCA also welcomed its first openly lesbian bishop, Rev. Brenda Bos, who serves the Southwest California Synod.
"Today is a humbling kind of day," Rohrer said in a press conference before the ceremony. "And I know that while much of the attention is about me, I always try, when I can, to step aside a second and remember the God who reminds me over and over again that there is no body that isn't welcome in a church like this, that isn't welcome in God's community, that isn't a full and faithful part of the church."
Born in Sioux Falls, S.D., Rohrer was raised in the Lutheran church, a community that proved to be both positive — Lutheran Social Services helped their family with food and care — and negative — they faced discrimination and hostility from peers in youth group and at the ELCA-affiliated Augustana University in South Dakota.
In an interview with Cosmopolitan, Rohrer described how the harassment led them to pursue further theological education, earning both a masters of divinity and a doctorate in ministry. They then became the first transgender pastor in the ELCA, ordained "extraordinarily" in 2006 before the church's LGBTQ policy changed.
Before their installation, Rohrer served as pastor of Grace Lutheran Evangelical Church in San Francisco, in addition to working as a chaplain for the San Francisco Police Department and director of Welcome, a homeless ministry with an emphasis on supporting LGBTQ individuals.
Rev. Tia Pelz, pastor of Christ the King Lutheran Church in Fremont, Calif. — part of the Sierra Pacific Synod — said she appreciates that her new leader has a background in ministering to marginalized communities.
"I love how they're able to connect to people who we might think of less openly," Pelz told Sojourners. "They're able to bridge divides, to be fully themselves but meet people where they are. I think they're a great role model for what we as pastors should be like."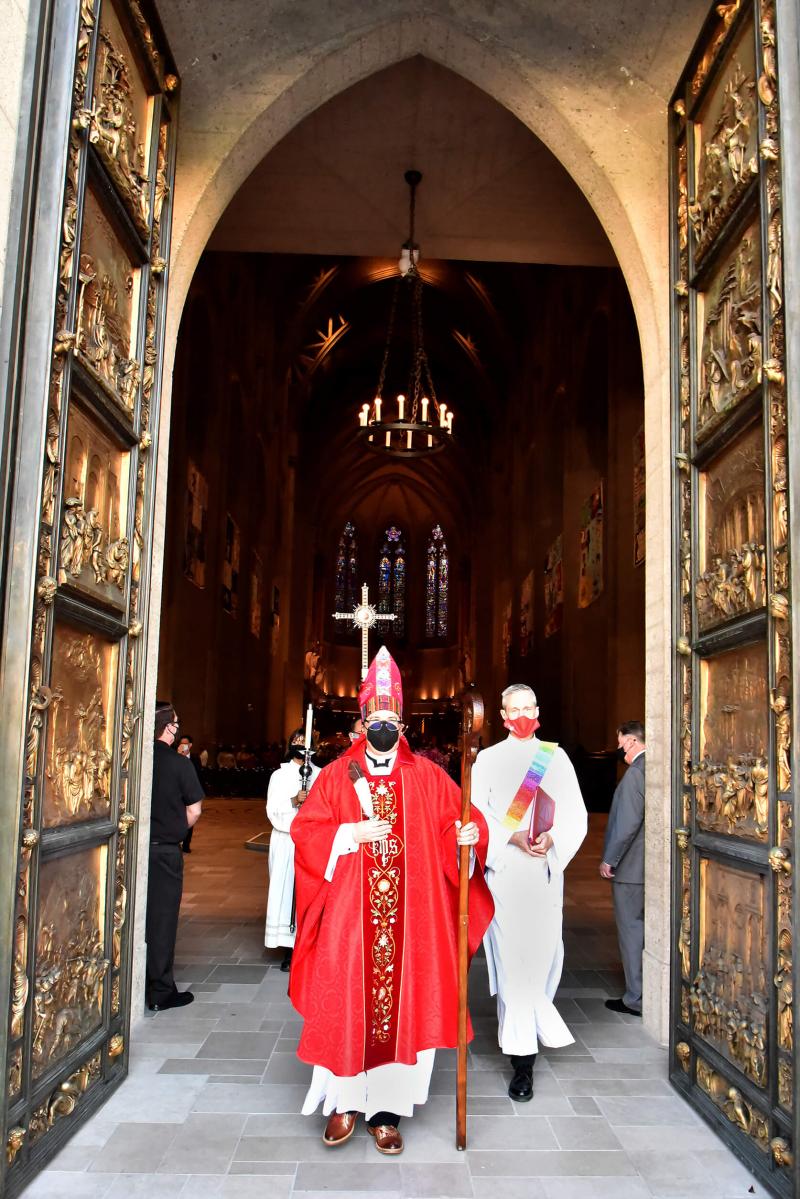 Rev. Marc Handley Andrus, an Episcopal bishop whose diocese includes Grace Cathedral, has worked with Rohrer in ministry for years and also participated in the installation ceremony. He echoed the praise for Rohrer's on-the-ground attitude toward community building.
"They radiate joy and welcome, and that is I think their hallmark," Andrus said in the pre-installation press conference. "Justice is not a grim activity, it's an activity of overflowing love, and I think they exemplify that."
Anti-trans laws in 2021
The year began on a less hopeful note for transgender rights in the United States. Both Arkansas and Tennessee passed anti-trans health care laws in the spring. Multiple other states passed laws limiting transgender sports participation, LGBTQ education, and the ability to change the gender on a birth certificate.
Ross Murray, like Rohrer, straddles the worlds of religion and the LGBTQ community, two areas that often are seen as at odds.
Murray, an ELCA deacon who assisted with Rohrer's ceremony, as well as a leader in religious work with LGBTQ advocacy group GLAAD, hopes that Rohrer will lead the way toward a more inclusive church.
"I think the church has a role in not just opposing laws like the ones in Arkansas or Tennessee, but also trying to propose and actively fight for laws that are going to provide protections and let people live full, abundant lives," he told Sojourners. "I do think [Rohrer's] approach to public witness … is an important lesson all churches need to learn."
That public witness was on display during Rohrer's full installation weekend schedule, which included a listening session with gender-diverse faith leaders, a roller skating fundraiser for a Lutheran summer camp, and an interfaith 9/11 memorial service.
The culmination came during the ceremony itself. After prayer, scripture reading, a homily, and many well wishes, Rohrer received a cross, Bible, crosier (staff), and mitre (traditional hat) designed by the Lutheran Latinx community.
Elizabeth Eaton, who holds the highest role in the ELCA as presiding bishop, then presented them to the church, and Rohrer shared a few words inspired by Maya Angelou's poem, "Still I Rise."
Rohrer hopes that the public pomp and circumstance serves as a sign to fellow LGBTQ community members that the church can be a place of acceptance and empathy.
"The hope [is] that as pictures of this great day are shared all over the world online, that people will see a sign of trans people as faithful in a way that is recognizable around the globe, and in a way that hopefully gives people an idea that there can be trans faith, not just trans struggle," they said.
Editor's note: This article was updated on Sept. 21, 2021 to correct the name of Rohrer's university; they attended Augustana University in South Dakota, not Augustana College in Illinois. The two institutions are separate.
Got something to say about what you're reading? We value your feedback!