When Spanish conquistador Francisco de Orellana became the first European to map the Amazon river in the 1500s, he claims to have fought against indigenous women he dubbed "Amazons" after the tribe of female warriors of Ancient Greek fame.
Five centuries later, in the 2.1 million square mile river basin bearing the same name, women are still fighting, but now their foes are deforestation, extractive industries, and domestic violence.
On Sept. 3, more than two dozen indigenous women leaders from across the Madre de Dios region of the Peruvian Amazon met in the regional capital of Puerto Maldonado to share their experiences and hear from experts such as human rights lawyers and land rights defenders.
One of those leaders was Jackelyn Rengifo, 30, president of the San Jacinto indigenous community in the Tambopata district of the Peruvian Amazon.
Her community has been ravaged by the incursions of illegal and legal miners, which have irrevocably damaged 2500 hectares (6177 acres) of traditional land.
These artisanal gold mines turn rainforest into a moonscape by pumping mud out of deep, wide pits. The toxic element mercury is then added to the slurry to bind to the gold. The mercury is burned off in order to extract the gold, but mercury is released into the air by the burning and into the water in the excess mix.
According to Madre de Dios-based scientist Cesar Ascorra, from the Center for Amazonian Scientific Innovation (CINCIA), the mercury is most dangerous once it enters into the food chain.
"The mercury enters the food chain via anaerobic microbes. The mercury then accumulates as the microbes are consumed by plankton, which are in turn consumed by fish, which are then eaten by fish-eagles," Ascorra said.
This is concerning because continued elevated exposure to mercury has been shown to cause paralysis, coma, and death. Studies have shown that people living in the Amazon near mining have much higher rates of mercury exposure than populations elsewhere.
In order to combat the effects of years of mining, the community of San Jacinto has a project for the recovery of forests on 100 hectares (247 acres) affected by illegal mining. They seek to sow fruits such as oranges, tangerines, and cocoa. Inside the once-toxic mining pits, they are aiming to construct fish farms.
With little support from – or presence of – the Peruvian government, the community has sought support from the Interfaith Rainforest Initiative. This international, multi-faith network, which has a branch in Peru, looks to end tropical deforestation using faith-based leadership and awareness raising.
At the women's forum, Rengifo told Sojourners that one of her main goals was to absorb wisdom from others.
"I want to learn more about women's rights and to learn as much as I can from the oldest leaders here," she said, "It is important to know how to fight the old problems as well as the new problems."
One of these perennial problems is land rights. In August, the Intergovernmental Panel on Climate Change (IPCC) released a report saying the best chance for fighting climate change was ensuring that indigenous people – who manage or have land rights to 40 percent of all protected and ecologicallytintact land – have legal titles to their land and that those land rights were respected by governments and industry. Unfortunately, on the ground, that's rarely the case.
Julio Ricardo Cusurichi Palacios, President of FENAMAD, the group of 37 indigenous communities hosting the women's forum, agreed that indigenous people have a prime role in slowing deforestation but that it was challenging.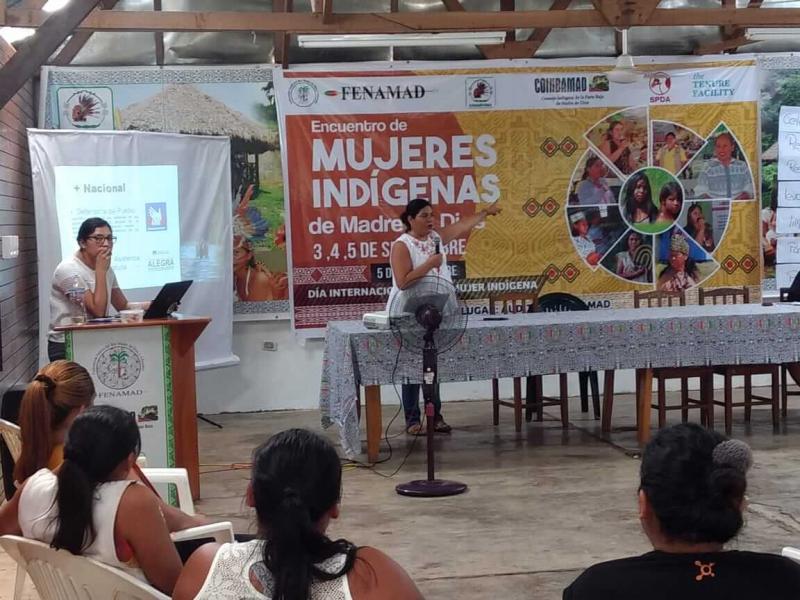 "Where is conservation being done? It's not being done in the offices of non-government organizations in the cities, it's being done on the ground, in the communities," Palacios said.
Rengifo said before indigenous communities came together in associations like FENAMAD, they had a lot of problems with finding the funding and expertise to precisely map their territory and then defend their land against intruders, in court – or on the ground.
"We would describe our land as being between two rivers, but now we need to have precise mapping to say exactly where our territory is," Rengifo said.
Marcia Edith Tije, 52, is one of the community leaders in Arazaire, another community in Madre de Dios.
Tije and her sisters have key leadership roles in the community, which has received help from Catholic charity Caritas and other NGOs. With that help, the community has been able to better stand up to land claims by those seeking to mine on their land.
"But we don't have our own lawyers or doctors from the community, let alone women filling those roles," Tije said.
Sojourners spoke to her after a session at the women's forum on resources for women's rights, including which agencies to contact.
"Unfortunately, femicide is still something that happens here in Peru, as is sexual violence," Tije said.
She added that one challenge was that many indigenous women took strangers at their word, leaving them vulnerable to exploitation.
Rengifo, from San Jancinto, said the father of her first-born had been from the city and abandoned her when the boy was only 18-months old.
"Now I have a husband from the community, and he is at home with the kids, cooking dinner," she said. "As mothers, we are trying to teach gender equality and show every day that women are fishing, women are farming, women are leading."
In October, hundreds of bishops and indigenous leaders, including women, are going to meet in Rome for an Amazon-themed bishops meeting – synod – which follows Pope Francis' January visit to the Amazon, a papal first.
Among the themes to be covered are how the church can adopt an "Amazonian face," how its teachings can contribute to an integrative ecology and other measures to increase the church's involvement in the region.
Cardinal Pedro Barreto, Archbishop of Huancayo and one of the synod organizers, said there would be a strong women's voice at the synod.
"The role of women has been significant," Barretto said. "The Church has been present in the Amazon for centuries," he said, "And now we have the first-ever Latin American Pope. He has chosen Francis de Assisi as his model," he said, adding that the saint had been raised rich, but spent time with the poor and in nature.
Back in Puerto Maldonado, Tije is cautiously optimistic about the prospects of indigenous woman to unite and transform their lives.
"We can't make change in our communities if women aren't trained or empowered, but the Church empowers."
Got something to say about what you're reading? We value your feedback!