Two years after the Jan. 6 insurrection at the Capitol, Christian leaders gathered Friday morning across from the Capitol in remembrance of the day for a sunrise prayer vigil.
With the Capitol building in the distance, a group of over 30 people came together, some wearing clergy robes and stoles. As the sun slowly rose, they often nodded in agreement to one another's prayers for democracy and healing.
Organized by Faithful America and Christians Against Christian Nationalism, members condemned the political ideology of Christian nationalism and white supremacy that helped "inspire and intensify" the insurrection in 2021. Participants said that Christian nationalism is a great threat to both the country and church.
Amanda Tyler, a lead organizer of the event and executive director of the Baptist Joint Committee for Religious Liberty (BJC), said during the vigil that, "Christians bear a special responsibility in continuing to draw awareness to Christian nationalism, to working to explain how it is a threat to our democracy, and to showing how it is a gross distortion of the Christian faith that we hold dear."
Rev. Nathan Empsall, executive director of Faithful America, described the vigil as "solemn but hopeful."
While in prayer, many leaders sought to emphasize their opposition to nationalism and uplift those who want to see a multiracial, inclusive democracy. Jemar Tisby, a historian, said the vigil felt more like a reunion among people who work to draw attention to Christian nationalism.
Michael Vasquez, founder of the Maiden Group, which consults primarily for faith-based organizations, chose to attend to show a strong presence of those fighting the rise of autocracy in the U.S.
"What I would hope people walk away with isn't a vision of faith in America that is rooted in anti-LGBTQ sentiments, anti-reproductive justice, anti-democracy, etc.," Vasquez told Sojourners. "I want people to see that there is a strong contingency of diverse folks in the faith community working to bring about change by sustaining and supporting our democratic institutions.
Mary Novak, executive director of NETWORK Lobby for Catholic Social Justice, told Sojourners that remembrance was crucial to preventing another insurrection.
In prayer, Novak also pointed out that Jan. 6 also marks the day of Epiphany in the Roman Catholic Tradition, which celebrates the three wise men navigating political violence at the time of Jesus' birth.
"Help us find the courage to reject the unholy and harmful ideologies of white supremacy and Christian nationalism, and to not be silent about the crisis of our democracy," Novak prayed.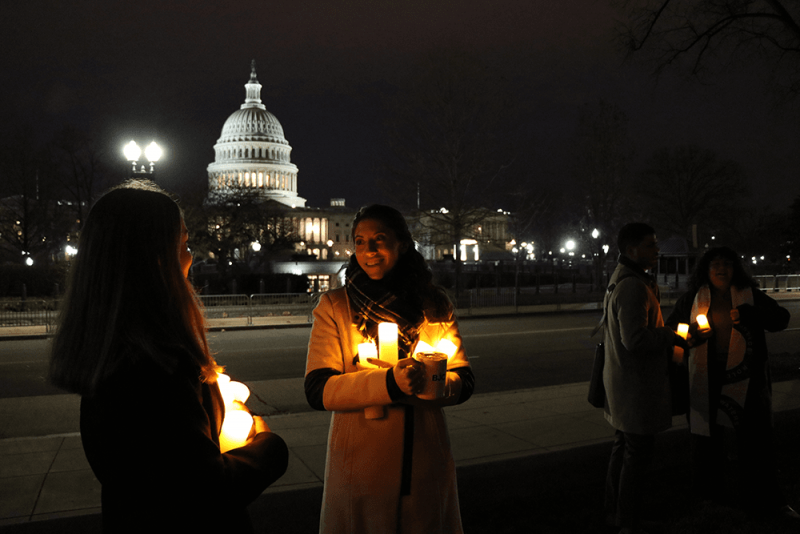 As the group remembered the violent day that left five people dead and hundreds of Capitol Police officers injured, they also recognized those who have to continue to work after suffering so much trauma.
"We also wanted to pray for everyone who has to work today in the place on the day where they suffered so much trauma: the Capitol Police, the lawmakers, the staff and we're holding them in place for healing today," Empsall said.
The vigil comes weeks after the release of the House Select Committee's final report, which only mentioned Christian nationalism once. Empsall, who signed a letter sent to members of the committee urging an investigation into the ideology, said it's a missed opportunity.
"You cannot prevent a problem from happening again, if you don't know what caused it in the first place. So if the Jan. 6 House committee, which otherwise does great work, is not going to discuss Christian nationalism and white supremacy, it falls on us as Christian leaders to do so," Empsall said.
Although the gathering was somber, there was a sense of fellowship and laughter among attendees. When Empsall ended the final prayer, the attendees began singing "This Little Light of Mine," changing the lyrics instead to "Won't let Christian nationalism blow it out, I'm going to let it shine."
Got something to say about what you're reading? We value your feedback!