art installation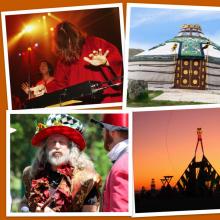 Last year, Phil Wyman, pastor of The Gathering church in Salem, Mass., trekked across the country with five adventurous friends to Burning Man — a week-long event described by its attendees as "an experiment in community, art, radical self-expression, and radical self-reliance" in the Black Rock desert of Nevada.
At the 2011 Burning Man, Wyman and his merry band of "crazy friends" built an art installation called "The Pillars of the Saints" — three meditation towers constructed of wood in the desert, asked people to sit on top of them, listen for a voice (presumably of the Holy), and write what they heard on the walls of the pillars.
This year, Wyman (who you might recognize from photos at the Wild Goose Festival last month where he played the "Holy Fool" in a Sunday morning worship service), has invited more than 15 friends to join him in the Nevada desert at the end of August for Burning Man 2012 where the group plans to build another art installation — this one even more ambitious and whimsical than the last.
Wyman & Co., have christened it "Theophony: The Mighty Interactive Faux Theremin." It involves an enormous, specially-built theremin placed at the center of a 32-foot canvas-and-wood yurt, with walls comprised of a series of 22 four-by-eight-foot murals with themes reflecting the "success and failures of spiritual pursuit."
"The particpant will feel a sense of dissonance while trying to 'play' the theremin," in tune with the chants and ambient music piped through the yurt, Wyman explains. The idea of Theophony is "to illustrate that spiritual pursuit is a discipline, but that even the imperfect attempt is both holy and fun."