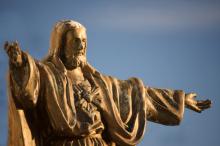 It's such an easy thing to do,
To overshoot and lose touch with You;
Surrounded by everyday anxieties,
Add to them that you're not too sensible to me,
And then you get me giving my all,
And then some,
Stretching and hoping,
Reaching and crying out for more of you
In my everyday moments.
I think that all simply misses the point.
You are present in my flesh and blood,
My soul but my pumping heart,
My thinking brain,
My biking legs and lifting arms.
I must believe you are more present
Than I know you to be....