catholic workers movement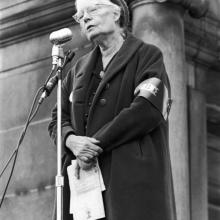 BALTIMORE — The Catholic bishops gathered here for their annual meeting couldn't agree on a statement on the economy on Tuesday morning, but with a unanimous voice vote that afternoon they easily backed a measure to push sainthood for Dorothy Day, whose life and work were dedicated to championing the poor.
Indeed, it was a remarkable moment for the reputation of Day, one of the most famous figures in 20th-century Catholicism.
Born in Brooklyn in 1897, Day lived a bohemian life in New York City in the 1920s while working as a leftwing journalist. She endured a failed marriage, a suicide attempt, and had an abortion when suddenly, after the birth of her daughter, she converted to Catholicism.
That decision confounded her literary friends but launched her on a new path of activism and piety.