being one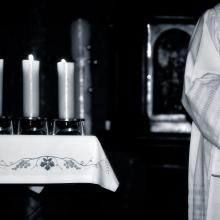 I attended a funeral last week and was struck by something that happened at communion.
The church was packed for a loving man who had touched many lives with his kindness. People from varied backgrounds and faiths came to celebrate his life and support his family. The eulogy noted that he never turned anyone away.
At communion time, several young adults from a different denomination got in line. When the first young man got to the priest, he received a question instead of a communion wafer. The priest said something to him. The young man looked surprised and shook his head. The priest traced a cross on his forehead and sent him away breadless.
On a day of shared grief, the young man had given the wrong answer to the age-old question: Are you one of us?