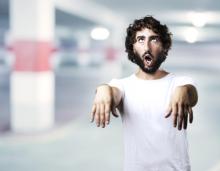 It seems that America is on the verge of a zombie apocalypse.
First, Ronald Poppo had most of his face eaten off by Rudy Eugene, and now, Alexander Kinyua reportedly killed his roommate, Kujoe Bonsafo Agyei-Kodie and then ate his heart and part of his brain.
Is it just coincidence that this spate of violent attacks comes when the county's fascination with zombies is at its height, or is there a connection?
From movies to video games, Zombies are the big ticket these days. The undead top the media charts, gnawing and clawing their way into the forefront of our imaginations. Move over vampires; Zombies are the new black.
It's hard to say if the pop culture popularity has influenced similar copycat killers, or if the zombie craze simply has made us more sensitive to similar real-life stories. Either way, both the fictional tales and actual news items may speak to something going on in our collective imaginations.