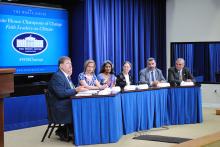 From a zero-waste synagogue to global development work after natural disasters, environmental projects by faith leaders are being hailed by the Obama administration as examples of exemplary leadership on climate change.
Environmental Protection Agency Administrator Gina McCarthy highlighted initiatives by a dozen leaders from a range of faiths, who were recognized July 20 in Washington, D.C., as "Champions of Change" for their environmental initiatives.
"As faith leaders, no voice is really more important than yours in this," said McCarthy.