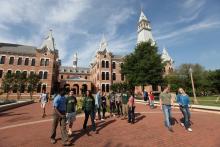 Should religious colleges be bound by the same union and labor rules as secular universities? Or be rated by the same criteria?
Those questions and more will be tackled by the presidents of three major universities who say they are united in supporting the values that faith-based schools bring to higher education even as they grapple with government regulations that can challenge them.
For the first time, the top officials of Baylor University, Catholic University of America and Yeshiva University will lead a discussion Feb. 4 in Washington on the "calling" of faith-based universities.
Baylor University President Ken Starr said faith-related schools are charged with helping students learn about "living life purposefully," which he said goes beyond simply helping students get jobs and be productive citizens.
"That's very good, but is that enough?" said Starr, who leads the world's largest Baptist university, in Waco, Texas. "We want to take the conversation to a broader level of what is in fact the education enterprise all about at its very best, at least from our perspective."
All three leaders see challenges to the religious freedom of their institutions from the U.S. government.