womens ordination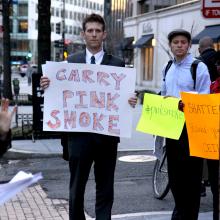 As cardinals in the Vatican wrapped up the first day of the conclave with no decision on the next pope, a small crowd assembled on the steps of the Cathedral of St Matthew the Apostle here in Washington, D.C., with signs, a guitar, and fervent prayers that the conclave would usher in a new openness to women in Catholic leadership.
The chilly March wind rose as volunteers passed around flickering candles. "There's too much Holy Spirit here tonight," one organizer joked. "We should tell her to tone it down a bit."
Those assembled were praying for something popes have long opposed: an active recognition of women as decision-makers in the church.
CANTERBURY, England — When the Church of England scuttled plans to allow women bishops on Nov. 20, incoming Archbishop of Canterbury Justin Welby called it "a very grim day for women and their supporters."

Now, that grim day is turning into a church-state nightmare for Britain's established church.
On Monday, The Times of London quoted from a leaked memo to church leaders from William Fittall, secretary general of the General Synod, who called the public and political fallout "severe."