Will D. Campbell
"We're all bastards," Will Campbell wrote, 'but God loves us anyway."
The Rev. Will D. Campbell, a Baptist minister and early white civil rights activist, as well as best-selling writer and folksy raconteur, died Monday in Nashville, Tenn. He was 88.
With a fiercely independent streak and sometimes prickly personality, Campbell used his powerful way with words to explore American racism, especially the contradiction inherent in Christian support for segregation across the South.
And he had his own contradictions, as well. A Southern Baptist who drank moonshine with the Catholic nuns he counted as his friends, Campbell was an equal-opportunity critic, castigating liberals as well as conservatives in his writing and preaching and storytelling.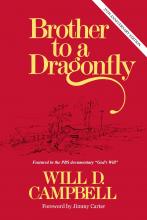 [Will Campbell] confused his critics – first the Right and then the Left – by insisting that his soul did not belong to any team – racial, political, religious, cultural. It belonged to the Kingdom of God. There was only one team, and that was the family of ALL God's children everywhere. 
Compassion came first in his hierarchy of values. Compassion led him to campaign for justice in the Civil Rights Movement, and compassion led him to sip whiskey with the cross-burners in the rocking chairs on their front porches. His was a ministry of reconciliation, a living, idiosyncratic expression a bold declaration of the biblical Gospel that God was in Christ reconciling the world to God's own self.