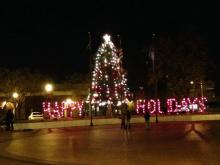 It's beginning to look a lot like Christmas here. But Hanukkah? Not so much.
In this town of about 90,000 residents, including a large Jewish enclave, a complaint over a menorah set up beside a decorated Christmas tree in Town Square has triggered the menorah's removal and upset numerous residents and at least one downtown merchant, who says township officials acted rashly.
For decades, Lakewood's display has featured a Christmas tree and a small menorah. No one has complained until now, township officials say.