voter discrimination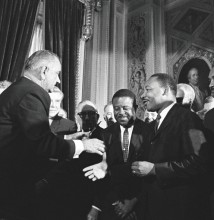 More than 80 bills to restrict voter access were introduced in 2013.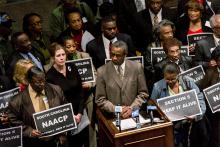 I was on the airplane, looking forward to reading Taylor Branch's new book, The King Years: Historical Moments in the Civil Rights Movement. As I opened my Kindle, I realized that it offered large excerpts of Branch's previous works, and was glad that while I have the other books in hard cover, I had these stories in my Kindle. But as I re-read some of the accounts, I realized that my 40-something-old self reacted differently than when I first read some of the accounts when I was 20-something. My younger self yearned to know: How did they organize? How did they deal with differing motives and different movements? And I yearned to believe that I, too, would have sacrificed my being for "The Movement."
My late 40-something-old self read these words as a mother — as someone who understood the fury of the parents who were scared as their children sacrificed their very lives for justice's sake.
Attorney General Eric Holder and other legal experts strategized with black religious leaders May 30 about new restrictive state voting laws that could affect their congregants by reducing early voting and requiring identification.
"I would argue that of all the freedoms we have today, none is more important or more sacred than the right to vote," Holder told about 200 people gathered for a meeting of the Conference of National Black Churches and the Congressional Black Caucus.
He acknowledged concerns about new voting laws and said his department has launched more than 100 investigations about racially discriminatory voting practices.