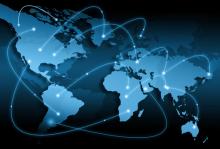 The television flashes images of a skeletal little girl whose ribs seem to be popping out of her ballooning stomach as she sits in a pile of mud and stares at the camera with large pleading eyes. A "1-800" number flashes on the bottom of the screen. A celebrity does a Public Service Announcement for building wells in Africa. YouTube has sharp pre-packaged videos pulling at our heartstrings, and even months after being released, the KONY 2012 viral video continues to float around the internet.
For Westernized cultures saturated with various forms of media and technologically driven information, social justice is becoming increasingly "packaged," carefully marketed, and commercially manufactured to be a product that incorporates the mission it represents.
Whether social justice organizations should be doing this is debatable. Like everyone else, they're trying to survive in a capitalistic system that ruthlessly competes for our every dollar. The only problem is that we aren't the ultimate consumers. For social justice non-profit groups, the sick, poor, starving, abused, and desolate are the true consumers; we're just the financial and volunteer base needed to keep the system working. To do this, organizations are discovering that a corporate business model is sometimes the only way to survive — and sometimes thrive — within the cutthroat world of advertising and solicitation.