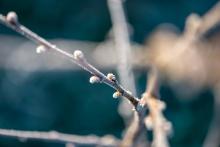 The day after Easter, it snowed. I was carrying in my last buckets of sap before leaving for Portland and was not surprised by the flurries, but they still stymied my expectations of warmer weather. The equinox had passed several weeks before, and while the start of spring had been marked on the calendar, it was (is) dragging its feet in coming.
Who has known the mind of God or even a good 7-day weather forecast?
We see and know in part. Certainty has never been the steady state of the human condition. Our lives are stretched with the awareness that clarity, at its best, comes with a smudge.
The experience of knowing we do not know can be felt in different ways. One is confusion, another, mystery. Both are confrontations of the hidden or unknown, but one brings us to awe and the other despair. One can leave us feeling isolated and the other in wonder at our relationship to that which is so much greater than ourselves.
The space between the two is not in the level of knowledge but rather our relationship to the knowing and unknowing itself. In the midst of our unknowing, we are faced with a choice: passive uncertainty or the stumbling action of faith. The beginning of wisdom is not the expectation of certainty with knowledge but the understanding that the kind of life most worth living is always an act of faith.