threat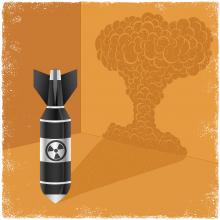 The Cold War may have come and gone, but its legacy lives on. 
IN FRANCE, about 70 percent of water services are privatized. French corporations continue to vie for control of the global water supply. But in 2010, Paris, in a case of "remunicipalization," exited contracts with Paris-based Veolia and Suez Environnement, the world's two largest water service companies.
Late Friday afternoon, UC Davis campus minister, the Rev. Kristin Stoneking, was in the car driving with her family from Davis to the American Academy of Religion gathering in San Francisco when she received a phone call from a campus administrator. Katehi was "trapped" inside her office at the university administration building, where a large crowd of protesters had gathered outside, flanking both sides of the sidewalk in front of the building's entrance. The chancellor was afraid to leave on her own and asked Stoneking to come mediate her exit with students.
Stoneking was running late, having missed a few of the AAR's sessions already, and was reluctant to heed the call. She called one of the students involved in organizing the Occupy protests on campus and learned that, "students were surrounding the building but had committed to a peaceful, silent exit for those inside and had created a clear walkway to the street." So she turned the car around and drove back to the university.
"Why did I walk the Chancellor to her car?  Because I believe in the humanity of all persons," Stoneking writes. "Because I believe that people should be assisted when they are afraid.  Because I believe that in showing compassion we embrace a nonviolent way of life that emanates to those whom we refuse to see as enemies and in turn leads to the change that we all seek.  I am well aware that my actions were looked on with suspicion by some tonight, but I trust that those seeking a nonviolent solution will know that 'just means lead to just ends' and my actions offered dignity not harm."