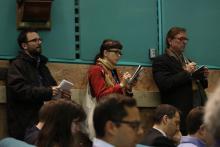 Tensions among the Roman Catholic cardinals meeting here to choose a new pope appeared to escalate on Wednesday as the American prelates in Rome canceled their daily press briefing under pressure from colleagues who are frustrated over news coverage of their secret talks.
The cardinals also announced that they still had not been able to agree on a start date for the conclave, in which 115 electors will cast their ballots for a successor to Pope Benedict XVI.
The effort to control the flow of information from the daily pre-conclave "General Congregation" meetings marked a sharp reversal from the unprecedented openness that had characterized this first papal conclave of the digital age.