sweat shops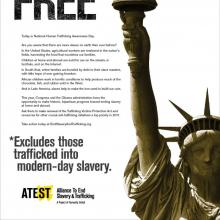 Today people across the nation (and the blogosphere) are taking part in National Human Trafficking Awareness Day, which encourages participants to get educated and get active in the fight to end the suffering of the estimated 27 million persons living in slavery today.
In his speech declaring January to be National Slavery and Human Trafficking Prevention Month, President Obama intimated a serious commitment to the fight to end modern slavery. This year, Obama and Congress have the opportunity to make historic, bipartisan progress toward this worthy goal.
And it's not just government that's getting involved. Just last week, over 42,000 young Christians banded together at Passion 2012 to raise more than $3.1 million dollars to fund organizations fighting to bring prevention, freedom and restoration to those trapped in slavery.
Sojourners has long been committed to the fight to end this abhorrent evil, and the current issue of Sojourners Magazine seeks to engage the topic head-on.
Inside, we invite you to explore our coverage and involvement in the fight against human trafficking over the past year!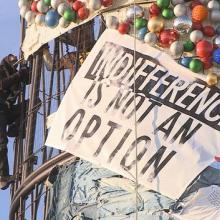 Is not this the fast that I choose: to loose the bonds of injustice, to undo the thongs of the yoke, to let the oppressed go free, and to break every yoke? – Isaiah 58:6 (NRSV)
A pervasive criticism of modern Christians, both from outsiders as well as concerned Christians, is that people of faith are not taking seriously Jesus' call for us to serve "the least of these."
Thankfully, we may be turning a corner.
Last week in Atlanta, more than 42,000 Christians packed the Georgia Dome for four days to participate in Passion 2012. Spearheaded by Passion Conferences founder Louie Giglio, Passion 2012 is another in an ongoing series of conferences intended to engage the "university moment" with Jeusus' compelling message.
What made Passion 2012 so compelling for so many wasn't the impressive list of popular Christian speakers, including Francis Chan, John Piper, and Beth Moore. It wasn't the popular worship music of Chris Tomlin, the David Crowder Band, Charlie Hall, and Kristian Stanfill. Nor was it the presence of 2011 Daytona 500 winner Trevor Bayne.
It was the call to action — the invitation to make Jesus' message of social justice a reality in this world.