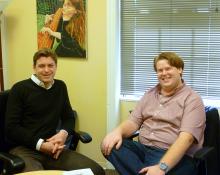 "There are lots of books out there about why you should not believe in God," Bayer said. "But there aren't any about what do secular people believe in. I think that's the question John and I felt hadn't been adequately addressed."
In exploring that, the two men — both whom have studied philosophy and logic — came up with 10 essentials. For the extra-nerdy, there's even "a theorem of belief" in the appendix that looks like something a mathematician might scribble.
The result is 10 "non-commandments" — the authors' irreducible statements of atheist and humanist belief.
First up: "The world is real, and our desire to understand the world is the basis for belief."
No. 2 on the list: "We can perceive the world only through our human senses."
Halfway through, at No. 5, the authors conclude: "There is no God." Once over that hurdle, the non-commandments become less controversial — an ethical society is good, as is moral behavior.