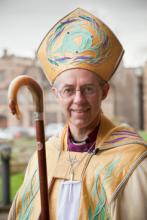 LONDON — Justin Welby was confirmed Monday as the new archbishop of Canterbury at a centuries-old service at St. Paul's Cathedral, six weeks before his formal enthronement inside Canterbury Cathedral on March 21.
Welby, 57, was a banker and oil executive before his ordination as a priest in 1992, and has served as a bishop for less than a year.
He takes over from Rowan Williams, 62, who returned to academic life at Cambridge University after a decade of turmoil throughout the worldwide Anglican Communion over questions of human sexuality and inside the Church of England over the role of women bishops.
The new archbishop had been the bishop of Durham in northern England for eight months when he was ordered by a still unnamed person in the Church of England to apply for the church's top job.