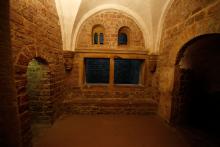 How scandalous the Christian notion of one baptism must have been, in a culture built on this cycle of observance and commitment.
I, too, believe that one is baptized only once. The emotion Ehrlich describes is akin to how I feel upon making the sacrament of confession.
And yet this notion of bodily renewal as part of spiritual renewal speaks to me: I am no longer young. I am not beautiful, and I am not thin. I am not especially successful in the very city where hard work and success are esteemed more highly than in just about any other. My heels are roughened and my limbs are tired from running after the children, my brow lined from the cares of my days. Our culture teaches us to flee from these inadequacies.
At Spa World, though--as, I imagine, at the mikvah--it is these very kinds of women who predominate. We who are in the middle, in need of renewal.