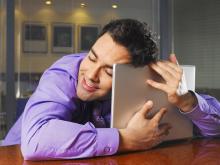 Consciously or not, when we recognize the need to step away from social media, it is because we are questioning who is in control.
If our default is to ask life's big questions on Twitter before we offer them in prayer, then someone other than God is in control. If we "Like" what someone is doing of Facebook before we recognize everything God is doing in our lives, maybe we need a social media time-out.
Lent is the right time to realign ourselves with the fact that God should be in control in our lives.