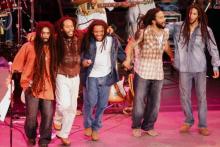 The 2012 Grammy Awards are upon us. With more categories than you could shake a baton at, the very best in music will come together this weekend to recognize and celebrate the achievements of some of the biggest talent of 2011.
While most are focused on the biggest categories — and trying to guess just how many awards Adele will take home with her — there are some real gems tucked away in a number of the less well-known categories.
For instance ... in the "Best Folk Album" category, there's usually underutilized instruments a-plenty, including an album made entirely on the ukulele from Eddie Vedder (which the Pearl Jam frontman cleverly named Ukulele Songs).
And there'll be some friendly brotherly competition between Stephen, Ziggy and Damian Marley, with all three sons of the legendary Bob nominated for awards (Stephen and Ziggy competing in the same category of "Best Reggae Album").