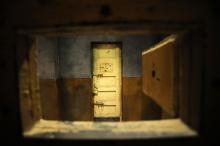 The critique President Obama articulated of solitary confinement in this week's speech to the NAACP on criminal justice is truly remarkable. Never before has this president, or any president, spoken about the mistreatment of people in U.S. prisons with such clarity and compassion.
When he spoke, the president echoed what people of faith across the country have advocated for years: Solitary confinement is an affront to our deeply held moral convictions.
Directing the attorney general to review solitary confinement is exactly what is needed to begin the process of ending this immoral practice. Faith leaders hope that with Obama's scheduled visit to the Federal Correctional Institution El Reno in Oklahoma on July 16, he will ask to see the solitary confinement section. If the president misses a chance to see such a unit, he, and thus the nation, will develop an inaccurate picture of the true suffering and neglect that lie deep inside our U.S. prison system.
When the president named solitary confinement as one of those prison conditions "that have no place in any civilized country," he made a statement of values loud and clear — that the inherent human dignity of people does not end at the prison gates.