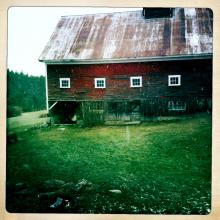 The big red barn on my family's farm was built in the 1880's.
The wood beams (almost nine feet off the ground), were wide enough for my mom, her siblings and a few other kids from nearby homes to run along. One of their favorite games was a modified sort of dodge ball with one person standing on the barn floor taking aim at the others running on the beams.
It was not safe. But...it was a lot of fun.
As kids ourselves, my brother and I tried to imitate this game in the barn and my mother soon got upset with whichever one of our uncles had told us about it.
My brother and I climbed trees much higher than reasonably advisable and spent hours wandering in the woods unsupervised. During the winter we built "jumps" for sledding runs that were dangerous enough that they routinely spilt blood.
Minor injuries were a regular part of our play. And, it was fun.