senator jeff sessions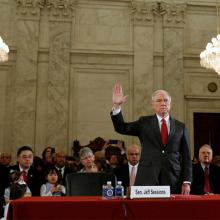 Senator Jeff Sessions of Alabama recently raised eyebrows during his confirmation hearing for attorney general when he expressed doubts that secular people respected the truth as much as did those with religious convictions. Even as he insisted that there should be no religious tests for holding public office, Sessions was queasy about the potential dangers of the secular worldview.
"Judges are like umpires. Umpires don't make the rules; they apply them. The role of an umpire and a judge is critical. They make sure everybody plays by the rules.