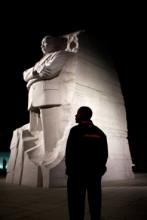 I first learned about President Obama's comments about racism and the Trayvon Martin case last week when a Facebook friend posted a link with this comment:
"Full text of the American President's divisive and racist remarks today. He moves smoothly into his new role as race-baiter in chief."
My friend's anger was matched by many others from PowerLine to Breitbart. But what I read seems to me as controversial as tomorrow's sunrise and incendiary as wet newspaper.
Let me try an analogy.
Imagine that Joe Lieberman had been elected our first Jewish president. And that in a moment of crisis, he felt compelled to explain that some reaction to even the hint of anti-Semitism is partly explained by the Jewish cultural memory of the Holocaust. And he included personal anecdotes about growing up Jewish in America.
Would he be accused of being divisive and guilty of whatever the Jewish equivalent of "race-baiting" might be?