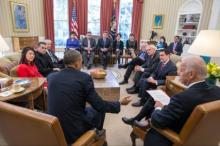 Speaker of the House John Boehner signaled Wednesday that there would be no immigration reform this year, an announcement made the same day that some of the nation's most prominent evangelical pastors met with President Barack Obama to try to advance the issue.
Only months ago, immigration reform seemed to enjoy strong bipartisan momentum.
It still does across the nation, said Russell D. Moore, president of the Southern Baptist Convention's Ethics & Religious Liberty Commission, one of the eight clergy invited to the Oval Office meeting.
"I urged the president not to make this a divisive issue, but to work with House Republicans," said Moore. "We need to work together to fix the system rather than just scream at each other."
The Obama administration, in a statement issued after the meeting, squarely blamed House Republicans for the impasse. The Democratic-led Senate passed a bipartisan immigration reform plan in June.