restitution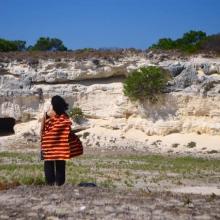 It occurred to me: South Africa is no longer under legal apartheid, but apartheid still thrives here — through de facto economic segregation. There are no signs that say "whites only" as they did under apartheid, but there has also been no move by the black government to restore the people to the land that was taken from them.
One question haunted me: How does a white Christian South African live in this apartheid from day to day? 1) One must actively fight injustice, or 2) she must embrace a theology that has nothing to do with it.
"Richard Twiss was willing to step out for what he believed in."