relic
The Vatican said it would display for the first time bones believed to be the mortal remains of St. Peter, the leader of Jesus' 12 apostles, to mark the end of the Year of Faith on Nov. 24.
Archbishop Rino Fisichella, president of the Pontifical Council for Promoting New Evangelization, wrote in Monday's editions of L'Osservatore Romano, that the Catholic faithful making a pilgrimage to St. Peter's tomb to mark the end of the Year of Faith will enjoy "the exposition … of the relics traditionally recognized as those of the apostle who gave his life for the Lord on this spot."
Fisichella was referring to the long-held belief that Peter was crucified upside down and died in either A.D. 64 or 67 on the spot now marked by the Clementine Chapel inside the basilica that bears his name.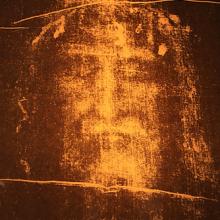 New scientific tests on the Shroud of Turin, which went on display Saturday in a special TV appearance introduced by the pope, date the cloth to ancient times, challenging earlier experiments that dated it only to the Middle Ages.
Pope Francis sent a special video message to the televised event in the Cathedral of Saint John the Baptist in Turin, Italy, which coincided with Holy Saturday, when Catholics mark the period between Christ's crucifixion on Good Friday and his resurrection on Easter Sunday.
The Vatican, tiptoeing carefully, has never claimed that the 14-foot linen cloth was used to cover Christ after he was taken from the cross 2,000 years ago, as some believers claim.