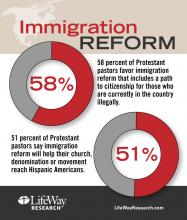 The news that immigration reform may be dead—at least for this year—isn't likely to sit well in many of America's churches.
A new poll from Nashville-based LifeWay Research finds nearly six in 10 senior pastors of Protestant churches support immigration reform that includes a path to citizenship.
Many of those pastors hope reform will help them minister to more Hispanic Americans. But few say the current immigration system hurts current members of their flocks.
The poll of 1,007 senior pastors of Protestant churches, conducted Sept. 4-19, comes as immigration reform has stalled on Capitol Hill.