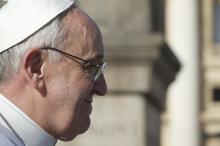 When Pope Benedict XVI retired in February, I wrote an article in appreciation for his papacy. While he served as a great model of humility in stepping down from his role as Pope, what I appreciated more about Pope Benedict was his first encyclical, turned into a book called God is Love . In it, Benedict wrote these profound words:
Love is possible, and we are able to practice it because we are created in the image of God. To experience love and in this way to cause the light of God to enter into the world — this is the invitation I would like to extend with the present encyclical. (93)
God is Love is a powerful written reminder of the essence of Christianity. I hope more Christians of all stripes will read it.
Indeed, I appreciate Benedict for writing those beautiful words, but I love Pope Francis because he's publicly living those words.