professional athlete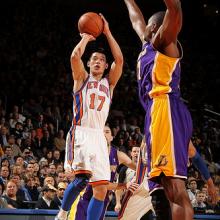 Tim Tebow references were a dime a dozen as the 2011-2012 NFL season drew to a close. News media, op-eds, fans, Bill Maher — everyone was talking about the Broncos QB's accomplishments, his unabashed Christian faith, the way he would pray when he scored a touchdown. (See: Tebowing.)
And plenty of people questioned whether or not God was really on Tim's side.
Football season is over, and the lull in "Tebow fever" is forcing more than a few of us to look for similar athletic incarnations of the John 3:16-face painted footballer. So when word got around that the New York Knick's (until recently) virtually unknown point guard Jeremy Lin is scoring some big points at the start of his professional career AND that he is a committed Christian, the masses have found their new fixation.
But are the comparisons between Tebow and Lin really valid?
I have been thinking much about this slogan or caption, "the other dimension of the game." It is a slick and catchy phrase I have been exposed to in my work with Streetfootballworld -- a strategic