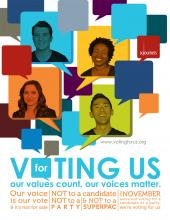 For a lot of voters, President Barack Obama's tenure hasn't turned out quite as they hoped. On the other side, the presumptive GOP nominee, Gov. Mitt Romney, isn't the candidate that many voters seem ready to believe in.
Traditional political parties are in decline. In December 2011, Gallup reported that 45 percent of the U.S. population identified as politically independent. At the same time, the direction of our two parties is more and more influenced by political movements like the Tea Party and Occupy Wall Street.
While there is an unprecedented level of money flowing into elections from wealthy donors, corporations and unions, social media has democratized access to fellow voters. You can spend millions of dollars buying airtime on traditional TV stations—but it is entirely possible to craft a compelling message that will reach millions for a relatively small cost.
A politically disillusioned electorate and a huge influx of money for attack ads will be a challenge to our country's democratic processes. The danger, especially for my generation, is to tune out from political and civic engagement entirely.
The opportunity is post-candidate politics.