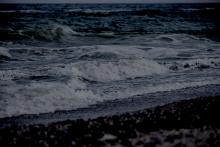 There is no political outcome that will make these children not drowned. There is no politics that will pull their shirts down to cover their exposed tummies, the way a parent's loving hand would do. There is no politics that will make their drenched clothing anything other than the last outfit their parents ever clothed them in, unaware when they did so that it would be the clothing in which their children would die. There is no politics that will give these children another life that does not end in terror and despair and cold water. (God, God, how does one write words like this?) There is no politics that will give their parents anything but the end they had: of going into the dark knowing that their dear ones were lost forever.
All this is permanent. It is done and cannot and will not and will never be undone. And while I am all for good politics, which is to say I am all for a good future, and so I am all for doing better by the refugees that yet live, I also refuse to let the past go as if it were merely the gravel under the sub-foundation of whatever shiny tomorrow we happen to build next.
There is no politics that can redeem what time has irretrievably taken. To stand as witness to the past is to stand either in utter nihilism and despair, or in the desperate, desperate hope that in the end a Redeemer will walk upon the earth, who will bring forth those whose flesh was destroyed, to see and be loved forever by God.