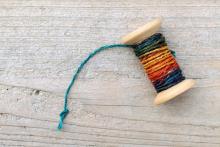 At a church workshop last week, I set aside my carefully planned teaching and just let people talk.
It became clear that everyone had an old story they needed to tell. Until it was heard, no one in the room could or would move on to thinking about the future. And even when it was heard, half of them would keep cycling back to the old story.
I sensed that, for some, the old story contained an identity, in the sense of "this story is who I am." I need to keep telling this story so that you know me. Until I am sure you've heard it, know me, and accept me, I can't stop.
For some, the old story was the burden on their back, the cloud over their heads. This story explains why I fall short, seem hesitant or even paralyzed. If you know my story, maybe you can accept me and forgive me.
For some, the old story was the safe place, the known that kept the scary unknown at bay. As long as I keep telling this story and presenting the me that existed yesterday, I don't have to contemplate the ways I am changing and the tomorrow that worries me.
It was like a case study in the long-ago classic, "I'm OK — You're OK." People wanted to know they were OK — acceptable and maybe someday even loved.
I think back to a recent lunch with the rector of the local Episcopal church, where I kept peeling the onion, telling her one thing about myself and then, if she accepted that, telling her something more. She was doing the same. If we know each other and still accept each other, then we can be in relationship.