Perry
If the GOP primaries were like Old Country Buffet, I'd be happy.
Think about it. There wouldn't be so much money involved and we could pick only the stuff we liked and ignore the rest.
And of course, everyone knows the basic rules of smorgasbord grazing, such as you can't get decent sushi in the Midwest or proper social conservatives from Massachusetts.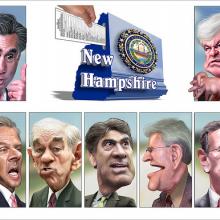 Tomorrow, New Hampshire votes. If there is one thing that I can tell you about my home state that might give insight into tomorrow's voting, it is this:
It's the only state in the country with the "right to revolution" written into it's constitution. (Check it out, it's article 10 in the N.H. bill of rights.)
The old Yankees of New Hampshire don't like being told who to vote for. And, they especially don't want to be told who should get their vote by anyone who works for a cable news company.
Remember how Obama was supposed to go on from Iowa to take New Hampshire sealing up the Democratic nomination? If they could throw a wrench into the GOP nomination process, I'm sure New Hampshirites would be proud to do so.