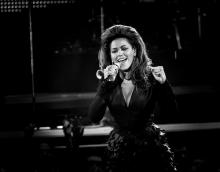 Maybe you are like me and you need a bit of good news this week, because it's been a week of bad news. There was the tragic shooting at the Navy Yard, leaving 12 people killed. Then there were the racist comments about the new Miss America, Nina Davuluri. She is the first person of Indian descent to be crowned Miss America, yet the news of the event emphasized racist tweets. It was almost as if people were competing over who could be the most racist: Some referred to her as "the Arab," and other tweets claimed, "this is America, not India," and one even called her "Miss 7-11." Not to mention the continuing escalation of tensions throughout the world involving Syria.
It was a depressing beginning to the week. I mimetically absorbed much of this violence, hatred, and racism. Misanthropy settled into my soul and I began to loathe myself and the entire freakin' human race.
But then I saw this video of Beyoncé performing in Brazil, and my hope in humanity was restored.