pepsi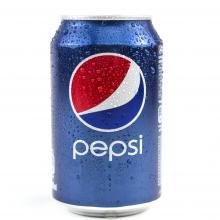 Let me tell you about the time I got re-directed by a Pepsi can.
It happened a few years ago. I'd started rethinking a lot of things about my life — what I wanted to accomplish with it, how God played into all of it — and decided to write my thoughts as I went along.
Eventually I got the idea that I could package my writing into a book that might help others who are going through the same things. Writers fantasize about some day having a best-seller; maybe this would be mine. I wrote and wrote and wrote and stepped back one day and read all of it and realized something.
It was awful.
I'm not so good at this type of writing. Expressing thoughts and feelings is a lot harder than reporting on events. Words are so inadequate. It's so easy to cross the line between being helpful and being insufferable. At times, I sounded like a pompous ass.
So, what to do?
I went back and rewrote. And rewrote again. I decided to try to make it breezier and more conversational — that'll do the trick. I read it again and realized that I now sounded like a breezy, pompous ass.
It's called writer's block, and it felt like a dead end. Maybe I should wait a few years and try again then. Hit define and delete, give up the struggle and move on. That seemed like the best thing to do. Stop trying to create for now.
I went jogging to mull it over.
It was a beautiful autumn evening with a wonderful, warm breeze out of the south. I'd just finished my jog and was walking around the block to cool down, enjoying the wind on my sweaty face, when a sound got my attention.
SALT LAKE CITY — Maybe now, reporters, bloggers, outsiders, and even many Mormons will accept that the Utah-based Church of Jesus Christ of Latter-day Saints does not forbid drinking cola.
On Aug. 29, the LDS church posted a statement on its website saying that "the church does not prohibit the use of caffeine" and that the faith's health-code reference to "hot drinks" "does not go beyond (tea and coffee)."
A day later, the website wording was slightly softened, saying only that "the church revelation spelling out health practices ... does not mention the use of caffeine."